shooting since 1971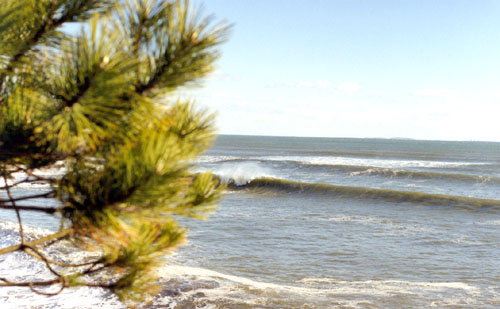 This site is dedicated to the 13.5 mile stretch of coastline in New Hampshire.

Imagination... is more important than knowledge.

Respect The Ocean, And All Those
Who Came Before You.

The New Hampshire Surf Motto:
"SURF FREE OR DIE"

LATEST UPDATES
June 17th, 2006
SUMMER 05 Released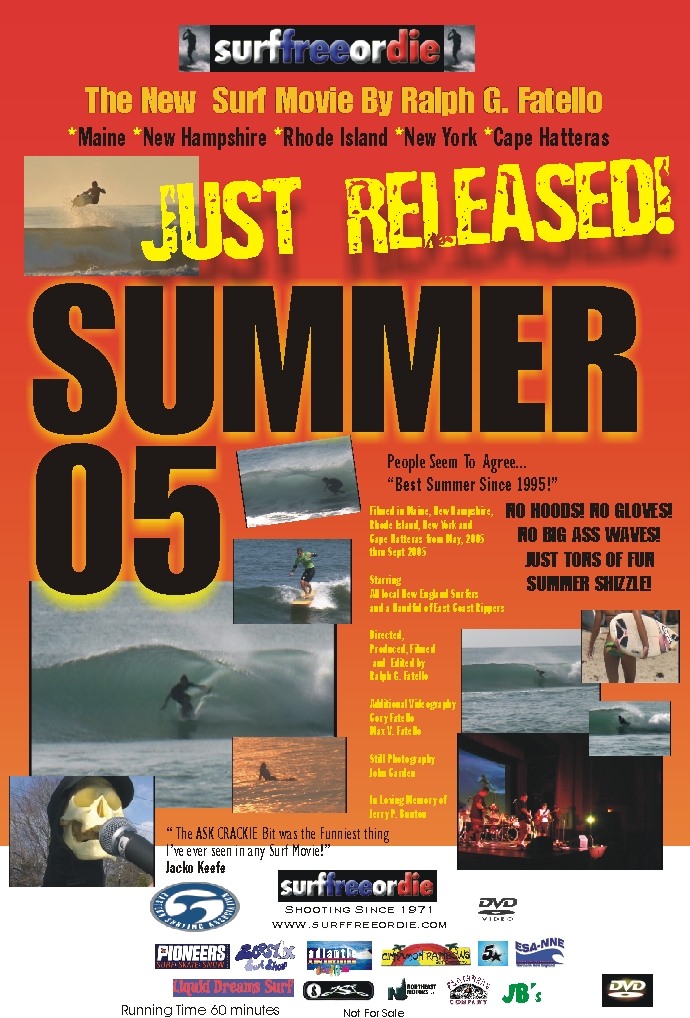 March 7th, 2006
The next release from SurfFreeOrDie SUMMER 05 will be premiering at a location
here on the seacoast to be named shortly. Stay tuned. SUMMER 05 will be in the shops
sometime in the Spring (right before Summer!)
SUMMER 05 was shot in New England, New York and Cape Hatteras from
June 1st thru September 30th 2005.
SUMMER 05 features New England Surfers/East Coast Surfers surfing
GREAT Summer Waves.

Stay tuned...

LATEST UPDATES
December 15th, 2005
AVAILABLE ONLINE
Check Cinnamon Rainbows Online Shopping Cart
or check on our ordering page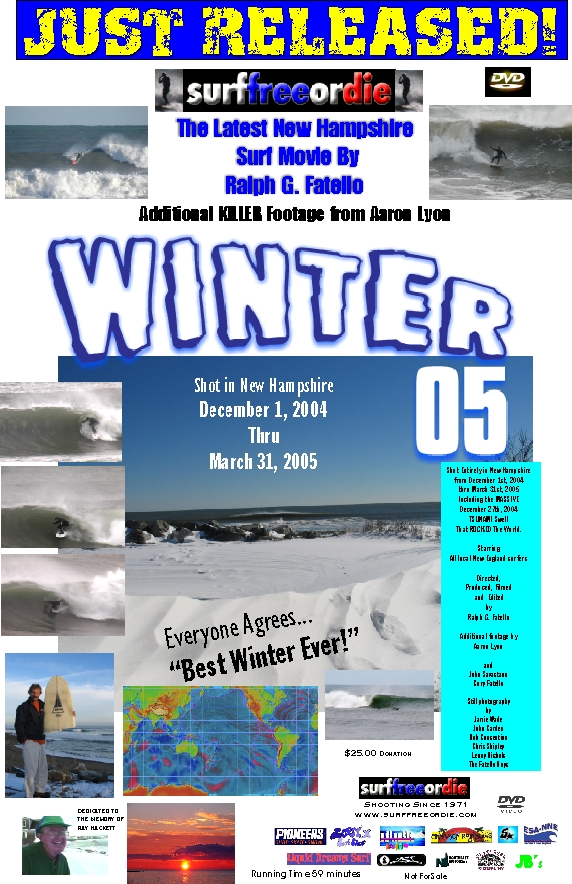 November 21, 2005

STOP THE PRESSES!
The SurfFreeOrDie release of WINTER 05 has been announced.
The long awaited Winter Surf movie will be in the Shops on Dec 1st, 2005.
WINTER 05 was shot in New Hampshire from
December 1st 2004-Thru March 31st 2005.
It features all New England Surfers with some of the
BIGGEST Surf ever photographed in New England.


September 19, 2005
*Hurricane Ophelia has left the building...unless you got it down south
you got skunked. Such is life with the unpredictable Tropical Storms.

Check out my friend's cool Photo Show
Christian's Surf Pix


September 14, 2005
*Hurricane Ophelia has everyone holding their collective breaths.
Is this "The" Storm? The "One" Project Swell? No one knows.
One thing's for certain. And that is, Hurricanes are Unpredictable.

September 5, 2005
*We pulled a fast one on everyone and did a complete covert operation
at 10th Street today. Or rather, tonight. How's that? We showed WINTER 05
at The Wall at 10th Street. A lucky 75 people in attendance got to
see a sneak preview of WINTER 05. If you were there, were guessing
it's something you won't ever forget. Never been done before.
If you missed it, Don't worry. We're going to do it again.
Just stay tuned to the local ground swells of rumours.

July 22, 2005
*2nd Surf Contest of the 2005 Season
on standby for July 23, 2005.
Liquid Dreams
click here for info

May 9th, 2005
*Eastern Surf Magazine Reviews 13POINT5
click here for review

May 1st, 2005
*Added Surf Posters for 2 New Movie Projects

*Added Poster for Ray Hackett Memorial Paddle


April 5th, 2005
*Added 2nd Surf Art Page
*Movie updates and releases





*NEW SURF MOVIE COMING NEXT FALL

Title:
I
(one)
1 Day.
1 Swell.
1 Movie.



Click here for New Surf Art Gallery

Click Here for Surf Art Gallery Two

CLICK HERE FOR SFOD PHOTO UPDATES:



CATCH A WAVE FOR GUS Surf Campaign


This Site Designed and Maintained by
Adlantic Advertising & Design
Any questions, comments or concerns about this site should be sent to
Webmaster@adlantic.com
Surf Free Or Die TM All Rights Reserved.